Crank Brothers Stamp – Mountain Bike Flat Pedal
As a general rule, I enjoy flat pedals when they are 1. Ginormous, 2. Have tall, sharp pins and are 3. Thin.
There are obvious limits to this, but when I got ahold of Crankbrothers Stamp pedals (in the larger of the two sizes), I was thrilled because they met all three of my criteria. I've had mixed experiences with both ultra-flat pedals and Crankbrothers products in the past, so I was excited to put some miles on them to see if they'd stand the test of time.
The Guts:
The Stamp body is made from 6061 aluminum with cromoly axles, hosting both interior and exterior bushings, which are said to be mega improvements on the problematic pedals of the past. Crankbrothers is so confident in these new bushings that they put a five-year warranty on these things, which is massive in the lifespan of most bike parts, let alone the beating that a pedal bushing will take.
This larger size pedal measures 111 x 114mm and weighs in at 375g for the pair. The smaller version is 100 x 100mm, and is 30g lighter. While the weight doesn't win any awards for being astronomically light, it puts it in the same ballpark as other mega platform pedals out there such as the Deity TMAC. The pedal is slightly concave, growing from 11mm at the center to 13mm at the outside of the pedal, which is skinny without being disconcerting. By comparison, the Deity TMAC is 14mm and 19mm respectively. Both sizes of the Stamp pedal are priced the same, and for that you'd expect they come with a solid build and a quality warranty to back up any mishaps. The warranty is there, so I put in a solid two months to test everything I could about the build quality.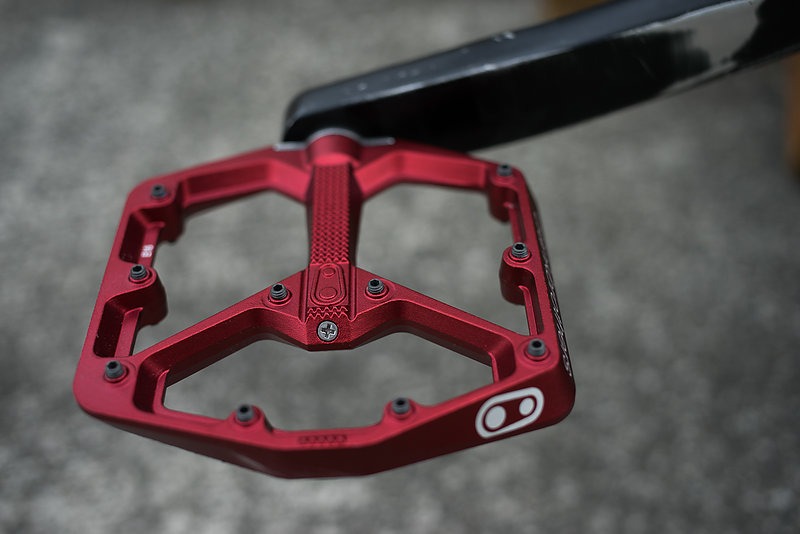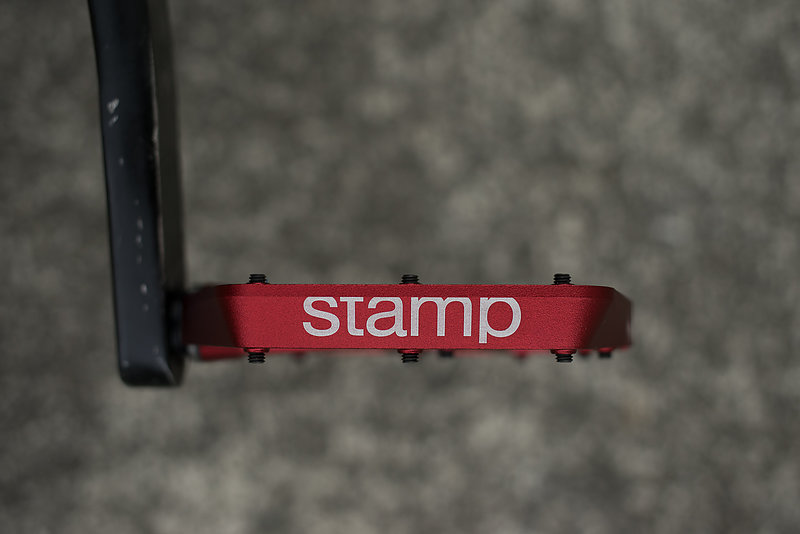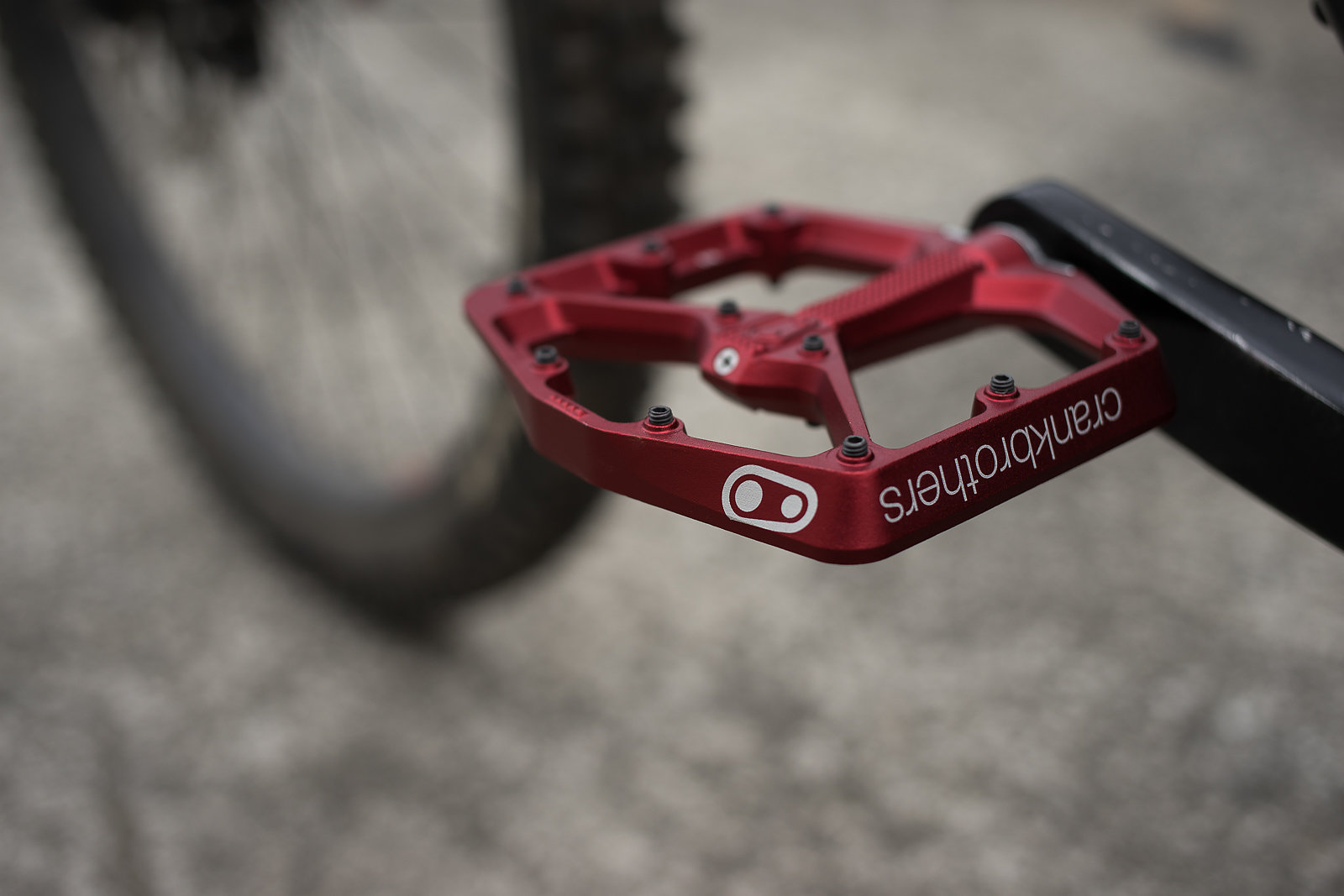 On the Trail:
Moving to a large pedal platform is immediately noticeable. I liken it to switching to wider rims. I immediately felt an increase in stability as well as being able to ride lighter on my bike. Having a massive landing zone for my feet diminished the thought that I might not recover if I lost a pedal in the air, or didn't properly reconnect as planned after going foot-out in a corner. The stamp's larger size doesn't necessarily mean it's meant for larger feet, it simply gives more connection and thus more control.
When the going gets sloppy and as we move into winter, I prefer long pins on my pedals; the massive, stiches-if-you-goof-it kind. Although the Stamp has relatively short pins, my foot stays planted and that works for me, even with the ground being fully saturated. The pedals do a good job of shedding any kind of mud or debris on their own, something that definitely contributes to the unwavering grip. I'm anxiously awaiting winter, as things will soon go from mucky to outright 2011 Champery World Champs conditions.
Maintenance is another factor that plays into the lifetime of a pedal. The Stamp is a breeze to pull apart in order to re-grease bushings or fully rebuild. The end of the axle housing has a small grease port to easily access the outer bushing. After two months of hard riding in all sorts of conditions, they spin like new, have developed zero play and spin freely with minimal drag.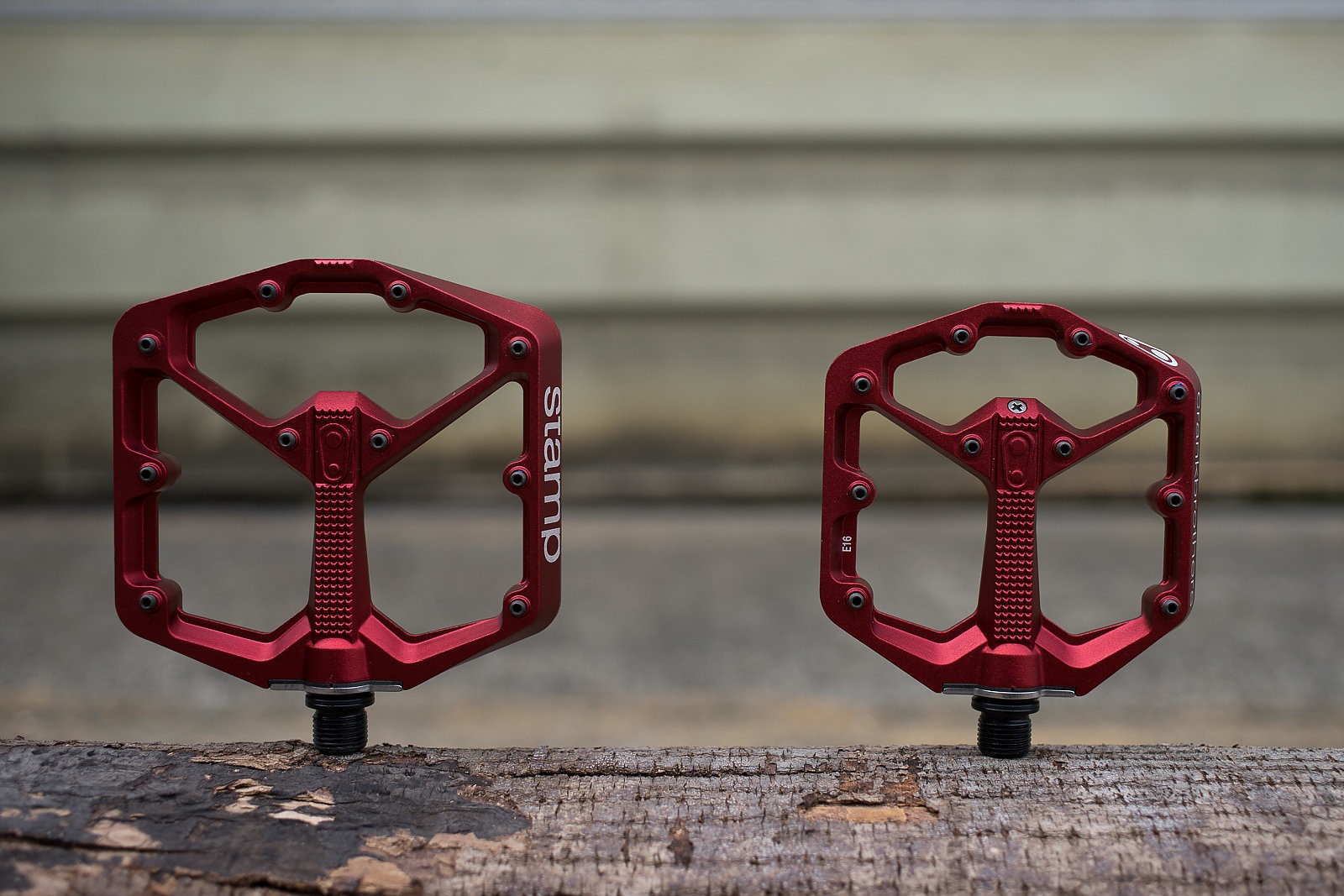 In Essence:
I loved the mega platform of the Stamp particularly when the trail got rough, I was getting uncharacteristically loose or things started getting slick. It gave a new level of connection right out of the package, and I can definitely appreciate that it comes in a smaller size for those who either don't desire a large pedal or who have smaller feet.
Article by freehubmag.com
---
We first spotted this pedal at the Eurobike show last autumn, not only was it a completely fresh design for Crank Brothers but it came in two platform sizes. The smaller Stamp pedal fits size 37 – 43 feet and below, and the larger from 44 to monster sizes. We think that for the smaller footed rider, a narrower pedal giving increased clearances in the corners and a slightly lower weight can only be a good thing.
Platform sizes, S: 100mm x 100mm, L: 111mm x 114mm
So what else is new with the Crank Brothers Stamp pedal?
Crankbrothers were keen to increase durability over their previous designs, looking to keep the pedal slim with as little bulging around the bearings as possible. To achieve this they have opted for a tapered chromoly axle with two Igus LL-Glide bearings and an additional double lip seal, a design they now use on their 2016 Mallet DH pedal. An easy access grease port is located below a grub screw in the pedal body, giving speedy maintenance without the need for a full strip down.
The forged 6061 T6 aluminium body is bang up to date with the usual concave shape, measuring 13mm at the outside and 11mm at the centre, a big improvement over the 5050 pedal design. Traction is through ten adjustable grub pins on each side, with an additional knurled section to the centre of the pedal platform.
Most pedals have moved to 'thru-pins' with access from the underside of the platform meaning easier removal when a pin is damaged. We spoke to Hannah at Crank Brothers in the UK and she said they have not had any issues with this and don't see it as a problem. The pins are also very low in height, when compared to other brands, and although Crank list a long pin kit as a spare part, it would be good to have some supplied with the pedals.
The platform is a clean, up to date design, sitting close to the cranks with tapered sides for good ground clearance and no rough edges. The weights are very competitive with the larger pedals hitting our scales at 374g a pair and 344g for the small size. These weights are lower than listed on Crank's website.
With a five year warranty, a low weight, good shape and improved bearings we need to choose our pedal size, get out on the trails and give the Crank Brothers Stamps a pounding. We'll report back on the longevity of the new bearing design and let you know about those pins…
SIZE: SMALL OR LARGE
COLOUR: RED OR BLACK
Review by Dirt Mountain Bike Magazine
---
Top Features of the Crank Brothers Stamp
Specification
Weight (per pair): 375g
Spindle: Forged scm 435 chromoly steel
Body: Forged 6061-T6
Inner bearing: Igus LL-glide bearing
Outer bearing: Igus LL-glide bearing
Body dimensions: 100mm x 100mm
Concavity: 2mm (13mm-11mm-13mm body)
Pins: 10 adjustable pins per side
Warranty: 5 years