Topeak Joe Blow Dualie Track Pump
This clever dual-gauge floor pump from Topeak was exclusively designed for low-pressure Fat-Bike tyres and moderate pressure MTB tyres. A massive oversized barrel is 1.5 times larger than a standard floor pump and delivers large air volume to fill oversized tyres quickly.
The high-volume Dualie floor pump uses an oversized 45mm steel barrel with a 500 mm stroke, and can inflate tires up to 75 psi / 5 bar. It gets it 'Dualie' name from the two large 56mm diameter pressure gauges, one measures lower pressures from 0 to 30 psi while the second is for higher pressures from 0 to 75 psi. It has a bike grip handle with a textured surface, a wide stable plastic base, and it has an extra long hose that utilizes their TwinHead valve connector with an air release button.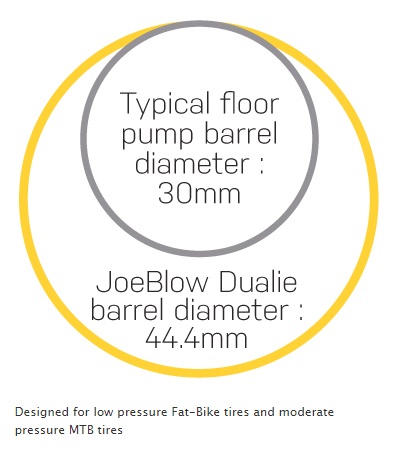 Most floor pumps are designed for high pressure and low volume road tires, and can be somewhat ill-suited for pumping up their monstrous high-volume mountain bike brethren. Hook up a standard floor pump to inflate larger mountain bike tire, and you'll be stroking forever to get it to its low-pressure setting. While a road or cross tire might require 90-120 psi, the wider and higher-volume mountain bike tires, including Fat and Plus sized models need pressures ranging from 10 to 30 psi. With the long stroke and oversized barrel, the JoeBlow Dualie is ideally suited for fatter mountain bike tires, since a large-diameter barrel gives more volume per stroke!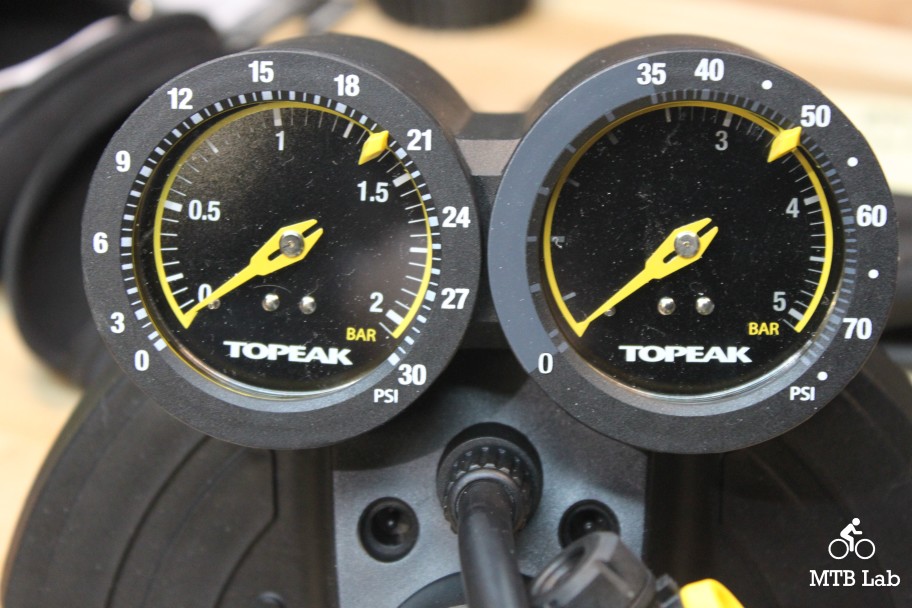 First Impressions
The Dualie has been immensely functional and topping off my big 2.5-inch and Plus sized 3.5-inch tires only required a few quick strokes, in contrast to the usual endless number with a standard pump. The two large gauges were easy to see and read, and the small yellow sliders on the outer dial were extremely handy to designate your desired pressure. I liked having the dual gauges, especially the lower pressure dial since I pretty much always ride all my tires with pressures from 15-22 psi.
The large-volume stroke can cause some issues once you get upwards of 45 psi, as it becomes harder to push that large amount of air at the higher pressures, which is why the road based designs are more throttled down in their barrel diameters.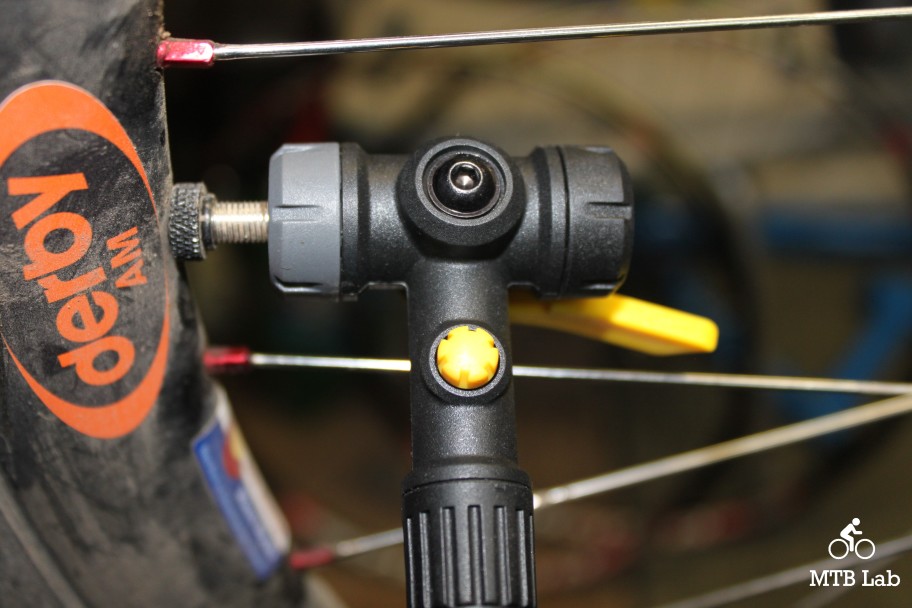 The TwinHead valve connector has a Schrader on one end and Presta on the other. Just press the head onto the valve with the proper end, flip the yellow lever upwards and it locks the securely in place with an air tight seal. The TwinHead worked nicely, and I liked the yellow air release button which made fine tuning the air pressure extremely simple by just doing a light finger tap. Just make sure to pull the head quickly off when done; otherwise, air can spew out.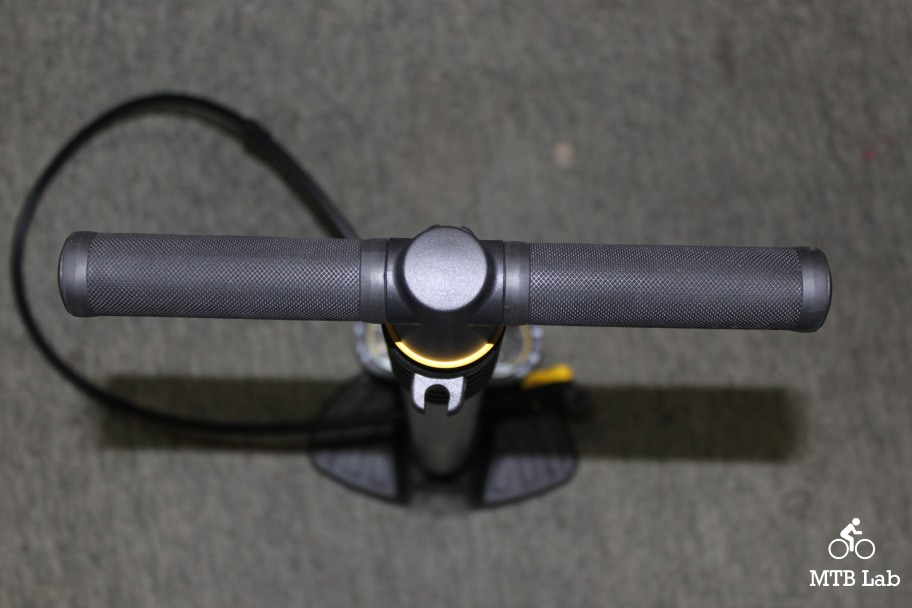 The pump handle had a nice feel in the hands and was easy to hold onto when pushing the vast amounts of air into the tires. The broad base offered extra support and stability, which greatly helped with pumping the long stroke monster. It didn't take to many strokes to inflate a tire from scratch, making the task much easier and less time consuming. For storing the pump, the extra long hose goes up over the top of the handle and is secured in place by two clamps by the handle and another one towards the Topeak gauges.
Bottom Line
The Topeak JoeBlow Dualie is a great floor pump that is extremely well suited for inflating high-volume and low-pressure mountain bike tires. The oversized barrel creates up to double the amount of air for each stroke of the handle so that mountain bike tires can be quickly inflated or topped off. The large dual gauges are easy to read, and to have one for 0-30 psi for fat and Plus sized tires and a second for 0-75 psi for a standard mountain bike tires is very useful. Since the lower pressure dial only covers the 0-30 psi range it has more gradations between the extremes making it ideally suited to precisely setting sensitive fat tire pressures. The TwinHead has individual Schrader and Presta heads along with a handy air pressure release button.
The $70 JoeBlow Dualie floor pump is well-built and durable and is useful for pumping up fat mountain bike tires due to its oversized barrel and dual gauges.
Specifications
Head – Topeak TwinHead w/ air release button & x-long hose
Barrel- Painted steel
Gauge – 30 psi / 2 bar and 75 psi / 5 bar, Base mount analog
Handle – Oversize padded
Base – Composite
Added Features – Ball / bladder heads, Hose dock
Size (L x W x H) – 69 x 23 x 17 cm /27.2" x 9.1" x 6.7"
Weight – 1.9 kg / 4.19 lb
Dual gauge: 0 – 30 psi / 2 bar gauge, 0 – 75 psi / 5 bar gauge